He was born in the western part of Azerbaijan, at the place of Goycha mahali, and the parents were expecting him to be a musician. Although he has always tried to be serious, he was able to make people laugh better than anything. Today azerbaijani Charlie - artist Uzeir Novruzov - lives in Las Vegas, climbs on the ladder to the sky and decorates  "Guinness World Records book", "Cirque du soleil" and "America's got talent"...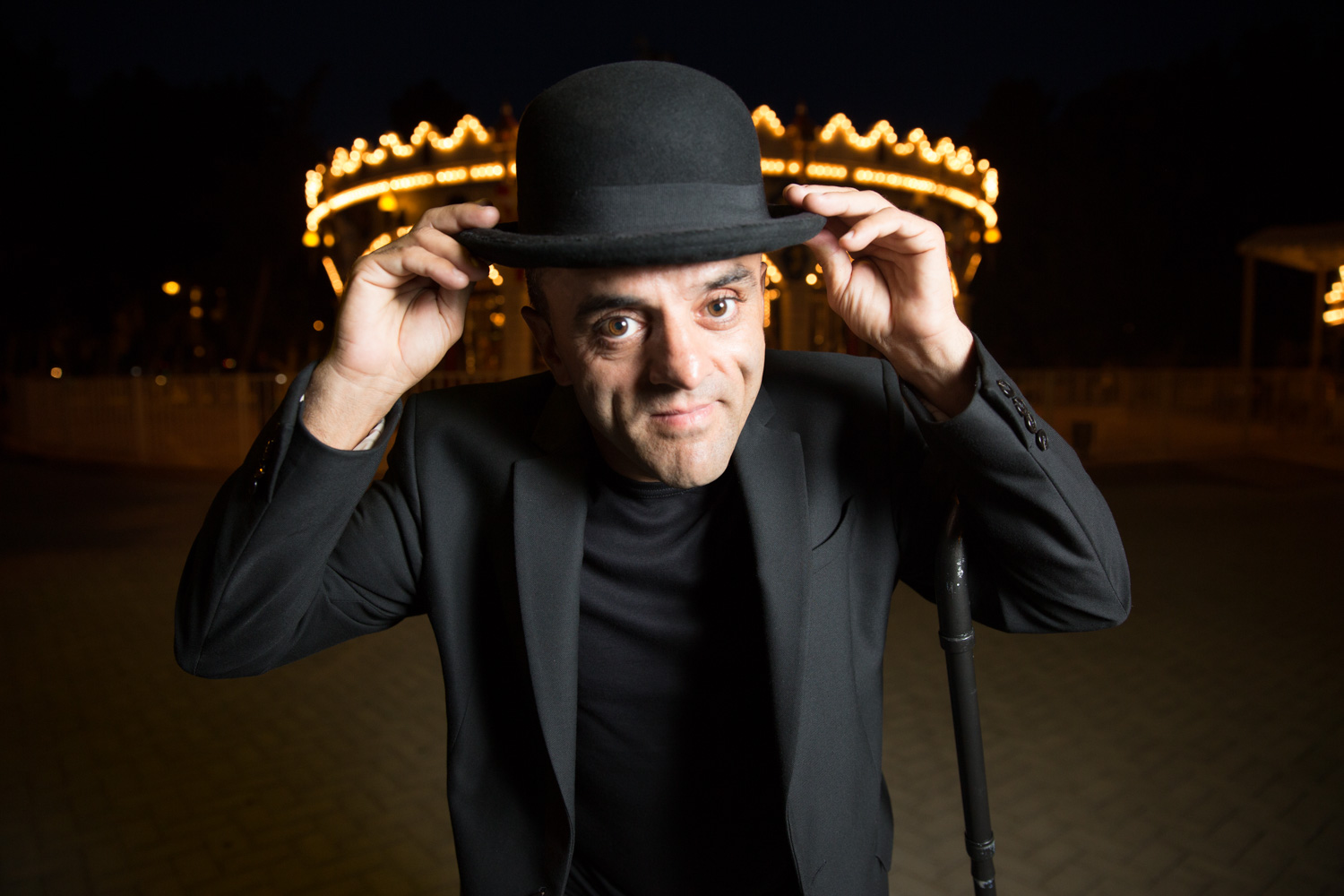 A talent show on NBC, where singers, dancers, magicians, comedians and other talented people of all ages compete for the grand prize of $ 1 million
"Honestly, I do not know if the fame found me or I went to see her?" But I know for sure that we have come towards each other for a long time, "our hero philosophizes jokingly. "What about dreams?" They exist to come true! Otherwise, what is the use of them?
What did Uzeir Novruzov dream of sitting at the school desk? About distant wanderings, incredible adventures, about the extraordinary profession, which he would devote his life to? Maybe. But little Uzeir, who moved with his parents to the Krasnodar Territory, where his creative biography originates, was clearly lacking in assiduity at school, although he was considered an apt pupil...
"My parents are simple people, workers. Father in his youth was a wrestler, sang well, loved art and always dreamed of seeing us – his children as musicians...
We were studying at school, when he enrolled us to circles at the House of Culture: my older brother and sister - in a circus, and the middle brother and me – in a musical.
Childhood, childhood... Dad was very fond of order and discipline. I remember how my sister and I distributed the work every morning: who has to do something about the house. Most of all I did not like to wash dishes...
Uzeir did not like the lessons of the solfeggio, they seemed boring. Especially since next door, in another class, "it was always fun, the brother and sister together with other students always did something!".
Thanks God, my father realized in time that the music wasn't for Uzeir – the musical scales were not for him, and without thinking twice he transferred the boy to a circus circle, where his soul was so eager. However, there, to the surprise of little Uzeir, everything turned out not so simple, as he had expected. The teacher got stern – seeing that some people go to a circle only for the sake of entertainment, immediately cut off: "No one will sit out in my classes – I need a result!" But Uzeir was not going to say goodbye to this merry and noisy corner. I had to be more attentive to what the teacher says... Over time, Uzeir mastered the first circus elements, learned to juggle and... climb up the loose staircase – he had an innate sense of balance. Later, Uzeir will say with a smile that he did not choose a ladder, and the staircase chose him.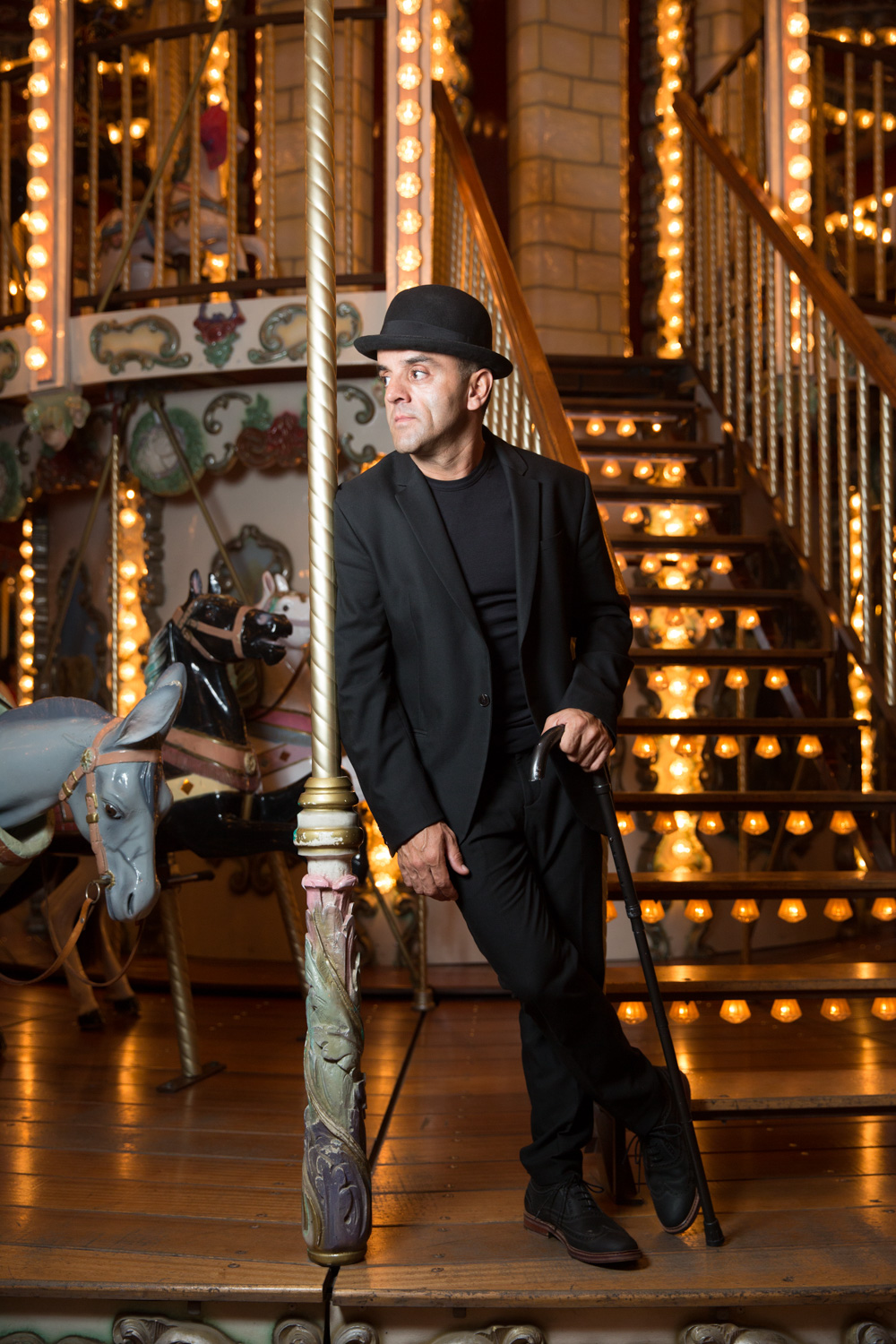 "It was here, in the Krasnodar Territory, in the circus circle" Youth "that I first came on the scene... It happened on May 1, at the celebration of the Workers' Day," recalls Uzeir. – I did not stand still, I continued to develop. When I entered the Moscow School of Circus Art, I was already set to climb to the height in this matter, in all senses.
And after successfully completing his studies, he began touring with the troupe of the Bolshoi Moscow Circus, which is located on Vernadsky Avenue. Then I already knew: the circus is my life...
This was the beginning of a great career! Talent and skill of Uzeir did not leave foreign impresarios indifferent. Could he have known that he would eventually find himself in the heart of the world circus – in New York, in the Big Apple Circus?.. But before that, in the creative life of Uzeir, there still had to be an important event – acquaintance with the amusing tramp who is known all over the world...
"Have you ever been told that you are like Charlie Chaplin?" – Once a famous teacher addressed Uzeir at the school. – If not, take note: you will very much follow his image...
The image of the "little vagabond" impressed and inspired the young student a lot that he immediately wanted to be that little man in a ridiculous suit and ridiculous shoes that could so easily make everyone laugh. So "a small man with a great soul" became a source of inspiration for many of Uzeir's numbers... Their similarity is funny and yet touching: the great Englishman even has the movie "Immigrant", and just like his hero, Uzeir, having moved through the ocean, found his second half, and real glory.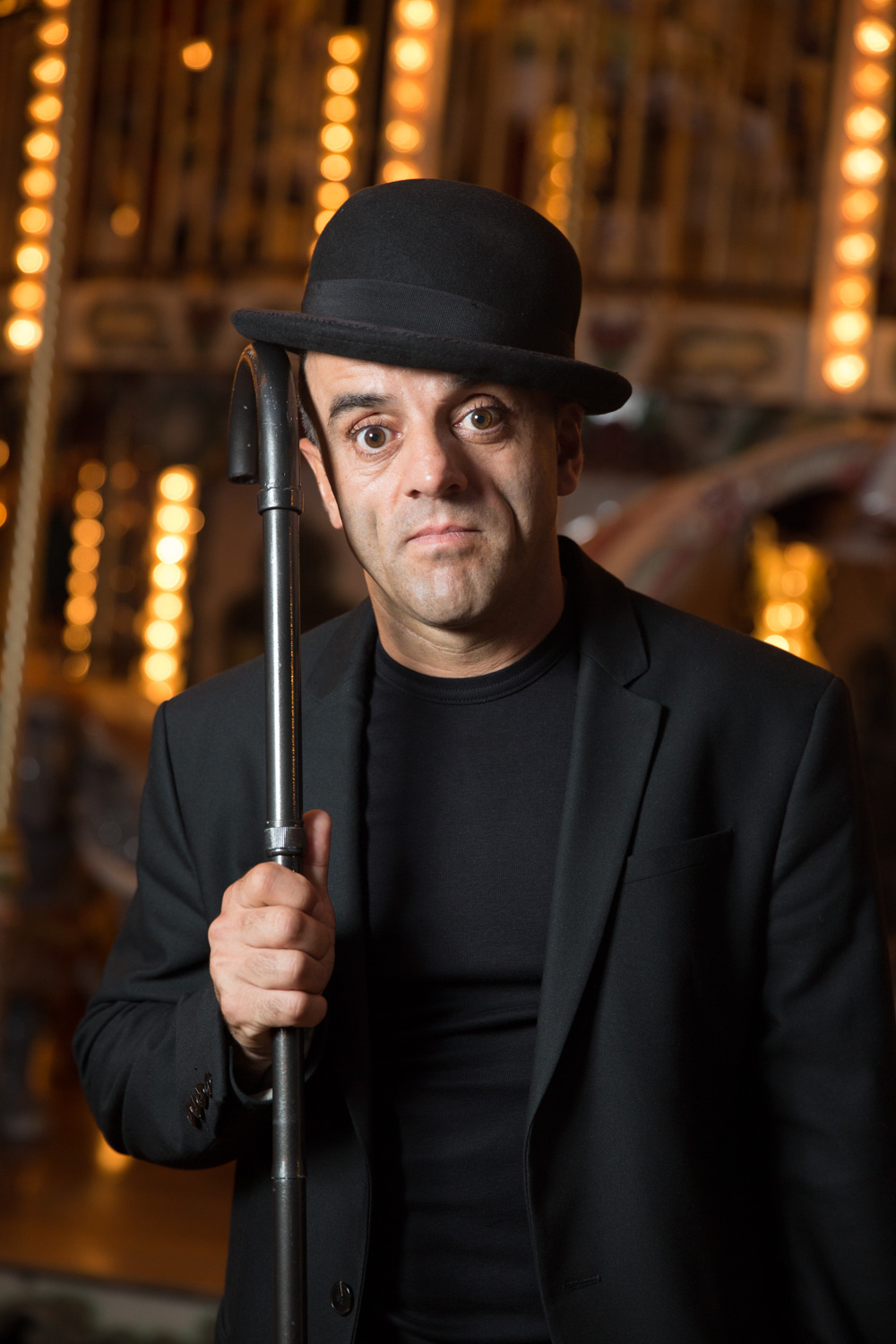 In the second year of his life in the US, Uzeir receives an invitation for an interview in the prestigious Cirque Du Soleil. This is an amazing creative team, amazing imagination with incredible stories, luxurious, complex numbers. Probably, there is no such circus artist who would not dream to work there!..
And now imagine: our Uzeir signs a contract for ten years to tour around the world as a part of this collective! The face of our compatriot adorns the poster of the Corteo show. His hero – the chimneysweep – cannot catch the angel who has arrived to him at night...
– In the profession you have to be able to catch a firebird by the tail – here, besides talent and diligence, you need luck. For the interview in Cirque Du Soleil came a lot of talented artists - believe me, they were no worse than me, but they took me to the troupe. For ten years I have traveled the whole world! Where we just have not been! Whoever did not come to the backstage of Cirque Du Soleil to express gratitude and admiration: Robert De Niro, Richard Gere, Salma Hayek, Keith Blanchett, the late Robin Williams, Jane Fonda... Cannot enumerate all! I'm not talking about Xavi, Casillas, Ronald, Neymar, Messi – they even invited to their training...
From colleagues, stars of show business and sport çUzeir has received the nickname #FreeLanderMan – "man-ladder".
Today on social networks, it is called that way, but who could have imagined that the superhero nickname would be prophetic for Uzeir – "Chaplin from Azerbaijan" will set a world record by staying on a six-meter loose ladder 7 minutes 50 seconds...
It's interesting that an Azeri with world fame Uzeir Novruzov has never performed at home, although this remains his cherished dream, as well as family numbers with his brothers. He cannot count all the countries he visited – his tour geography covers four continents. On the Azerbaijani stage, he first came out last year, in the days of the Baku stage of the Formula 1 Grand Prix: he was invited for three days, and he took a vacation – and came with his whole family for three weeks.
The elder brothers of Uzeir, Oktay and Telman are also masters of the circus, they are engaged in comic acrobatics. They work in Europe, and once they flashed their talent in the Russian TV show Minute of Glory. By the way, then to the question of the presenter: "How many relatives can you put in a row for your number?" – Oktay replied: "I have another brother, we can play together threesome!". This brother was Uzeir, who had not yet tasted world glory. In free time from acrobatics, brothers play music – for the soul. So, we can say that all the dreams of their father has come true. Perhaps, in the future, Uzeir's dream of joint family performances will also come true?..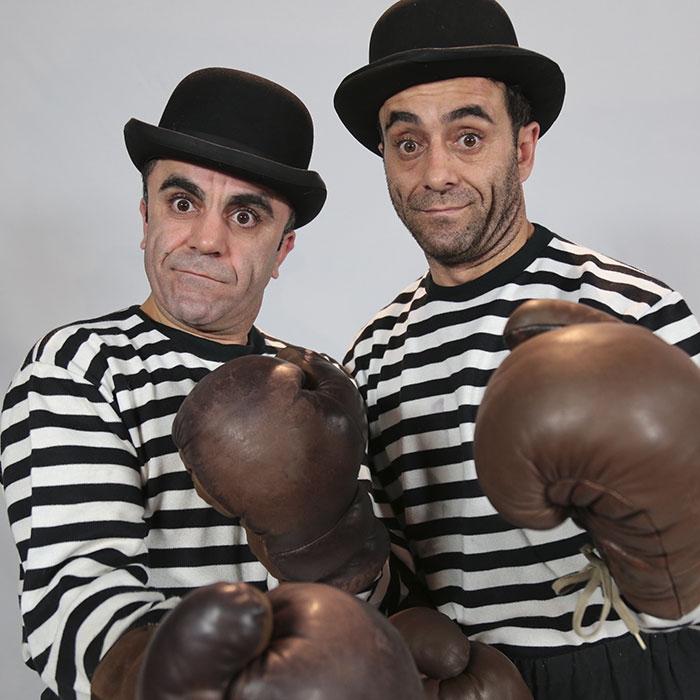 – Cirque Du Soleil – the best in the world: stunningly creative people, everything is organized perfectly, but you're only a part of the big mechanism that works on the conveyor system. I was bored, and I decided to embark on a free voyage...
So, there appeared the show America's Got Talent in the life of Uzeir. It made him famous all over America. He won both the jury and the audience, becoming one of the main decorations of the show, and most importantly – reached the finale.
– I myself did not expect such success! For me it was a usual performance – I just showed what I could. And I took part in this popular contest only to be shown on TV. And it turned out much better than I thought...
Besides, this show are watched all over the world, and therefore I am especially glad that I became the first Azerbaijanian who took part in it.
– Azerbaijan is my motherland, my roots, my blood! I have traveled a lot of countries, and wherever I was, Azerbaijan is the place where I'm always drawn, – admits Uzeir. "My father's grave is here, my mother lives here." I am always aware of what is happening here in Azerbaijan. Away from the homeland, a person becomes more receptive to what is happening to her. Some good news related to Azerbaijan, from the folk songs that my mother often sends me on the phone I am carried away...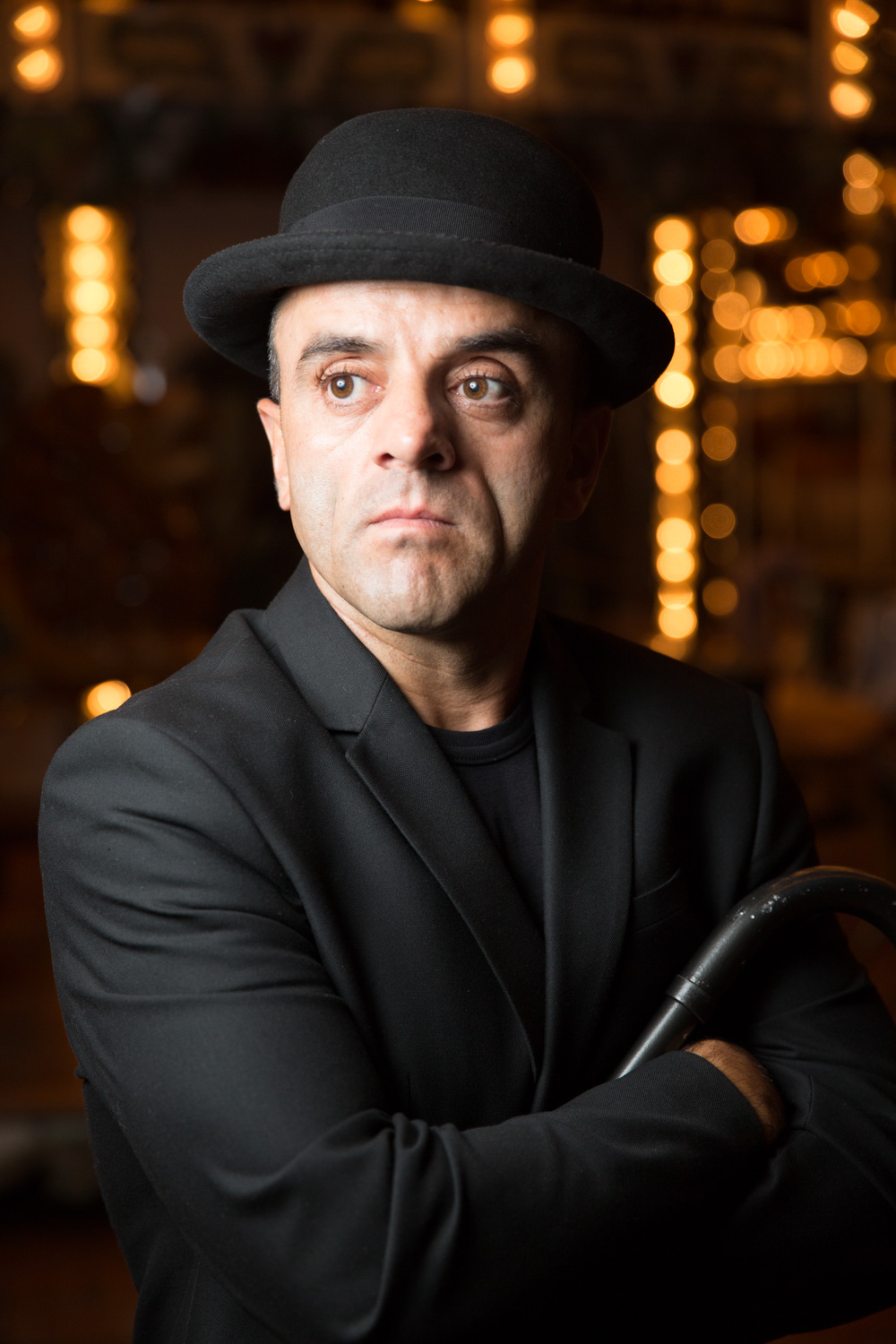 Today, Uzeir Novruzov is a vivid example of where the person of his dreams can lead, if he really wants them to come true. For a long time already, borders between countries have been blurred, and talent – is a talent even in Africa. Uzeir goes up the stairs all the way up – in direct and figurative senses, without stopping! What else the world will surprise us and our Uzeir will please our compatriots – time will tell. But today you can confidently say that he has already entered the history. Now Uzeir himself is an example for imitation and a source of inspiration, isn't he?
– People often ask me what the main secret of my success is. I answer without hesitation:  love! The main rule I follow all my life is to do only what I love. Without love, without enthusiasm, without pleasure – nothing happens. Without this, magic does not happen, dreams do not come true. So, invest all your strength, without looking back, spend all your money on what you love – and everything will return to you a hundredfold!
Interview: Seymour Zakariaev Photo: Pyarviz Hazymzade, archive materials