The annual session of the International Conference on Oriental Carpets (ICOC) was held in the Textile Museum of the George Washington University (USA) in June. Our country was represented by the director of the Azerbaijan Carpet Museum, the chairman of the Azerbaijan national committee of the ICOM, the honored employee of the culture, Shirin Malikova, who made a report «The sources of replenishment of the Azerbaijan Carpet Museum collection».
In her presentation Shirin Malikova called foreign Oriental art collectors to return rare Azerbaijan carpets to its historical motherland and if required, to accomplish this by involving art patrons.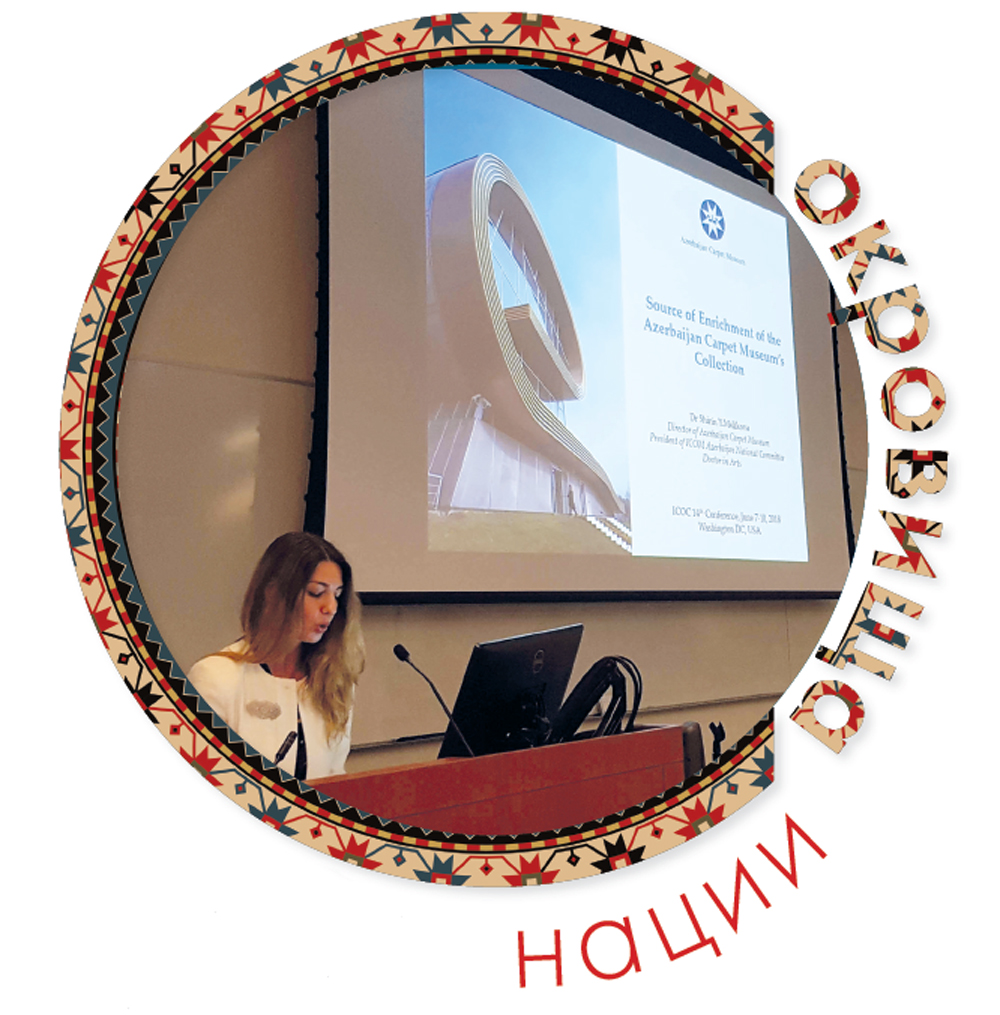 She mentioned: "For centuries our carpets were taken out of Azerbaijan. And that was great, for its high appreciation all over the world. Our carpets reflected nation's aesthetic values and it is the best representation of the country and its culture. However, the museum, corresponding to all international standards, not only technologically, but from its business strategy view point too, needs acquiring the rarest, unique Azerbaijan carpets, which were long enough "on a visit". It is high time to return to their own nook. And the Carpet Museum is the best place for shelter, equipped with special storage conditions, impressive workshop for presentation and restoration, which is continuously improved by us and for which we train personnel.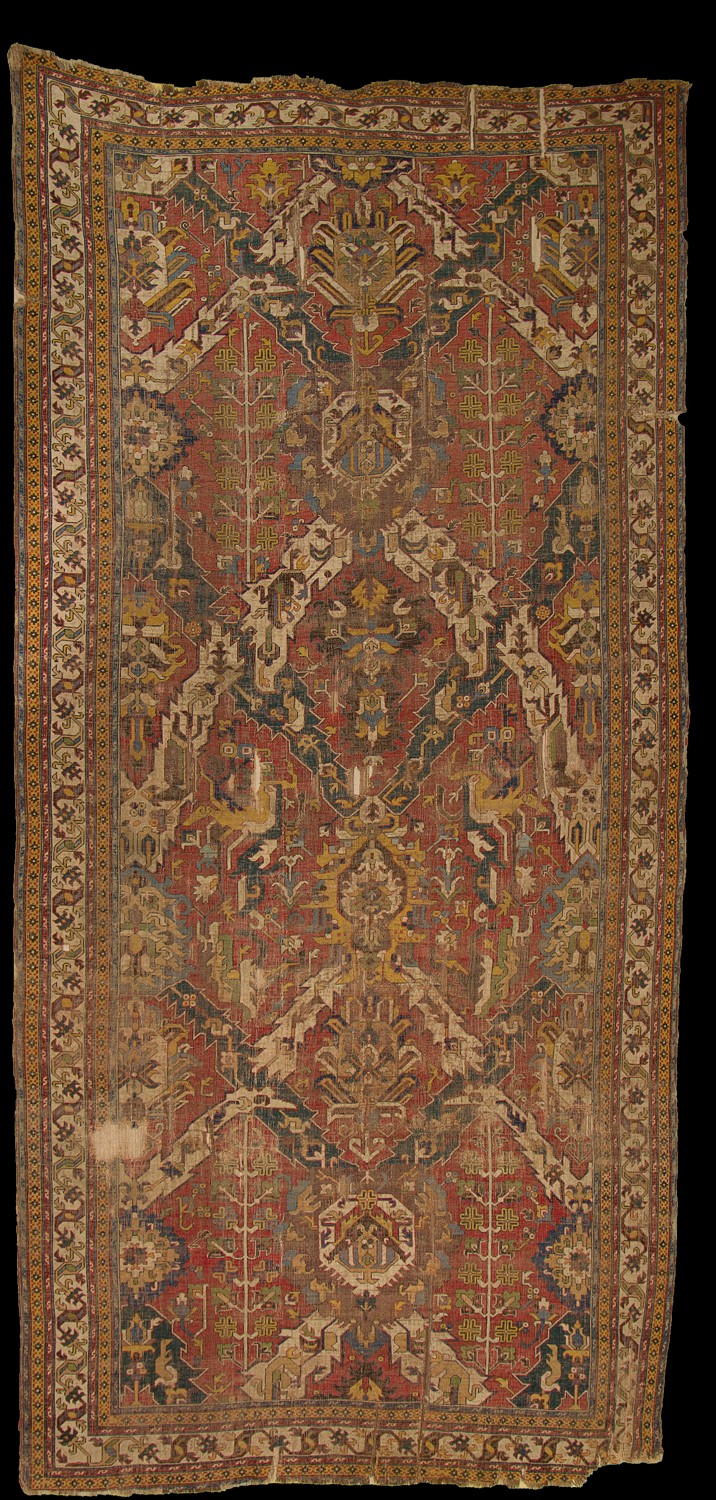 Last year the museum was awarded with "the Best experience» prize in the area of database of intangible cultural heritage of the International Committee for Documentation of International Council of Museum CIDOC, a quality certificate of TripAdvisor site, this year it became a nominee of the European Museum of the Year Award» of the European Museum Forum (EMF) and received a certificate «for promotion of excellence in innovation and public quality in museum practice».
However, the objective of the Azerbaijan Carpet Museum is to preserve traditions and to study the Azerbaijan carpet art, which is rightfully considered, as the most precious national property. Shirin Malikova narrated about replenishment method of the carpet Museum collection, about collaboration, as with common Azerbaijan residents, so with foreign collectors, archeologists and auction houses. High popularity of the Azerbaijan carpet caused scattering of many masterpieces of this art all over the world. Thus, interaction with proud owners of these treasures became one of the museum's priority tasks.
During her presentation Shirin Malikova gave names of several donors, presenting their collection carpets to the museum and an amazing story about certain carpets was told. For example, "Syrt-chichi" carpet of the XIX century, for a long time kept in a private collection in Italy, was recently acquired for the Azerbaijan carpet museum, as result of painstaking efforts of anonymous art patron. Shirin Malikova recalls her first encounter with that carpet: "I saw it two years ago during my working visit to Rome and I kept on recollecting color ways, soft silkiness of cloth, amazing patterns, which are tiny, as beads, chained, like precious jewels on the dark blue background of the central field... Absolute symmetry, alignment of each and every element makes this carpet a real artistic masterpiece!
Certain rare carpet types, representing source of collectors' pride, haven't been presented in our country at all until recently. Not long ago, Heydar Aliyev Fund acquired for the museum a unique Garabagh's «Khatai» carpet, produced in the end of the XVII century, which is a «dragon carpet» type, revealed in foreign private collection.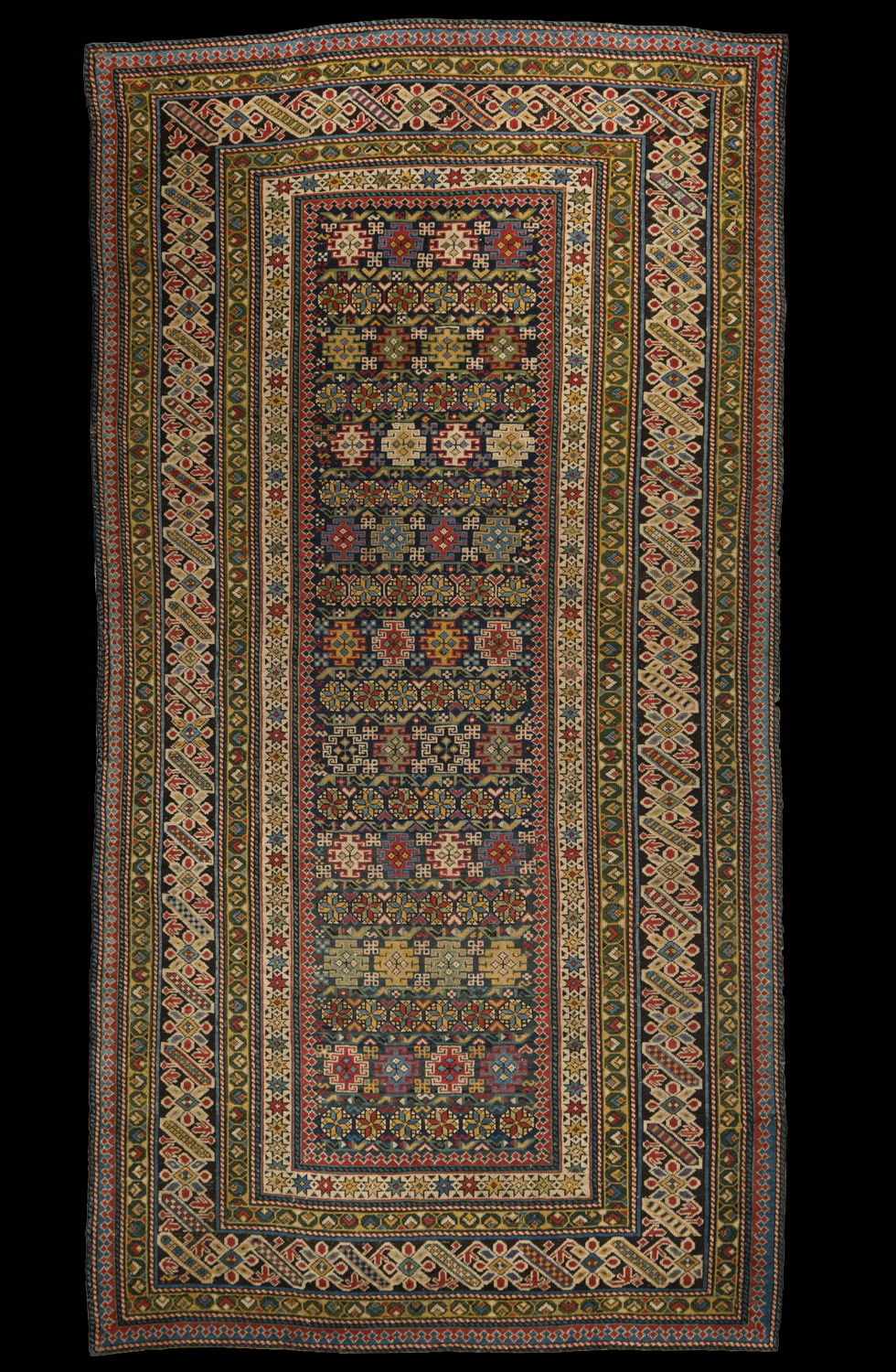 Mrs. Shirins relates: We have been looking for a "dragon carpet" for a long time. Saying true, a dragon is not reflected in our «Khatai» carpet, but its image is replaced with "the tree of life» motive, which is a distinctive feature of this specimen. A "dragon carpet" is often called abroad, as Armenian one, which causes big problem. The issue about presentation of Azerbaijani carpets in foreign countries, about its specific features was raised at the 5th International symposium on the Azerbaijan carpet, held in Baku one year ago. Prominent experts and museum employees such, as Vendel Swan, Yael Rozenfelz Yanina Poskrebko (USA), David Kelati (Great Britain), Eduardo Marino (Italy), Suzanne Bayraktaroglu (Turkey), Beata Bidronska -Slota (Poland), Ali Nasir  (India), Mohammed Saleh Al-Baghdadi (Jordan) etc. touched upon this issue.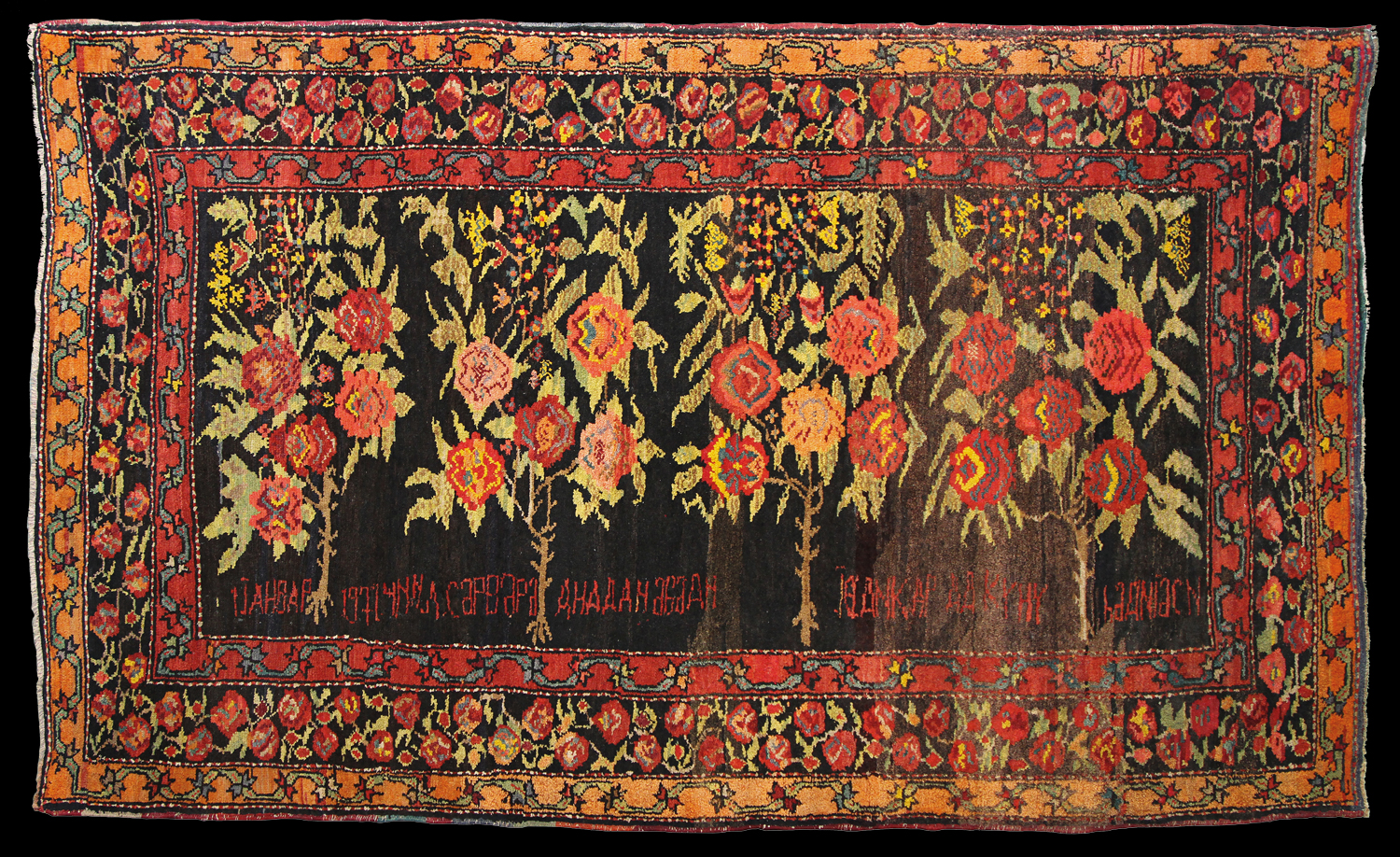 However, the mentioned problem relates not only to ancient carpets. The director of the Azerbaijan Carpet Museum told to foreign colleagues an impressive, nearly detective story about one modern Karabakh carpet, recently delivered to the museum. In February of 2017 a US citizen, who is an ethnic Azerbaijani, Elshad Tahirov noticed  "Blooming garden" carpet of Shusha set: bushes of blossomed carmine roses on black background on the website of virtual sales of pieces of art.
The caption read: «Ancient Armenia. The Garabagh carpet». However, caption is clearly apparent in the Azerbaijan language (Cyrillic): «The 1st of January 1971, a gift to Sarvar, as a keepsake from your mother».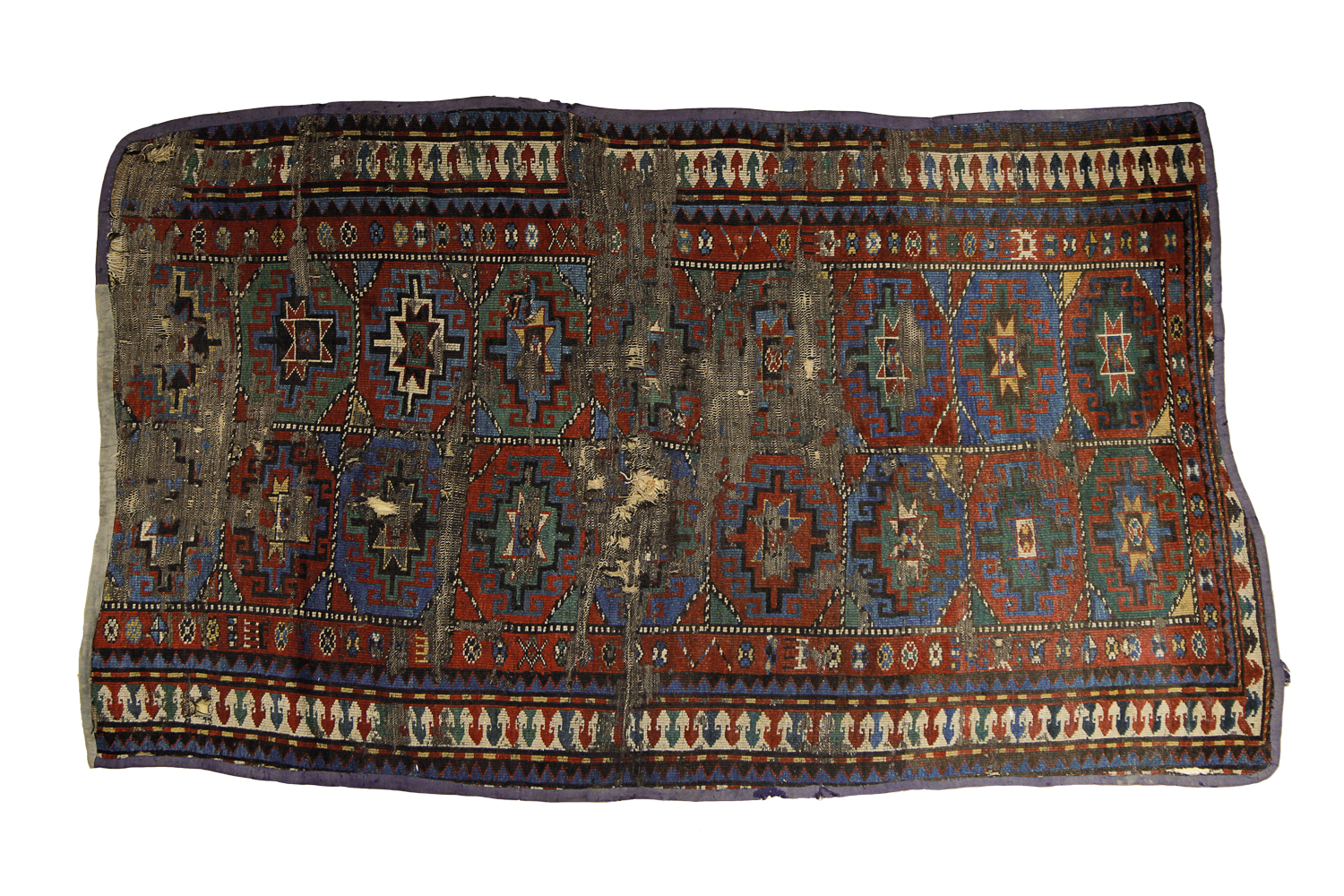 Right away it became evident that the carpet was taken out of Azerbaijan by Armenian invaders. Elshad Tahirov tried to find its owners, but his searches failed. After that the art patron sent it, as a gift to the Azerbaijan Carpet museum. The history of this carpet immediately inspired several people, representatives of different creativity specialties to organize theatrical production and even to create clothes collection set.
Another Garabagh's «Mugan» carpet, produced in the XIX century with double medallions on the black background, was presented to the museum by the doctor Afet Safarova last year. Her great grandfather's family didn't abandon this carpet even during the massacre, when they were forced to flee from native lands. In 1906, during burning and plundering of Djullu village of Zangazur district by Armenian gangs, her great grandmother grasped a carpet, wrapped her only son and fled to a wood for life. She managed saving herself and her kid, Afet's future grandfather: namely, the carpet rescued her from cold.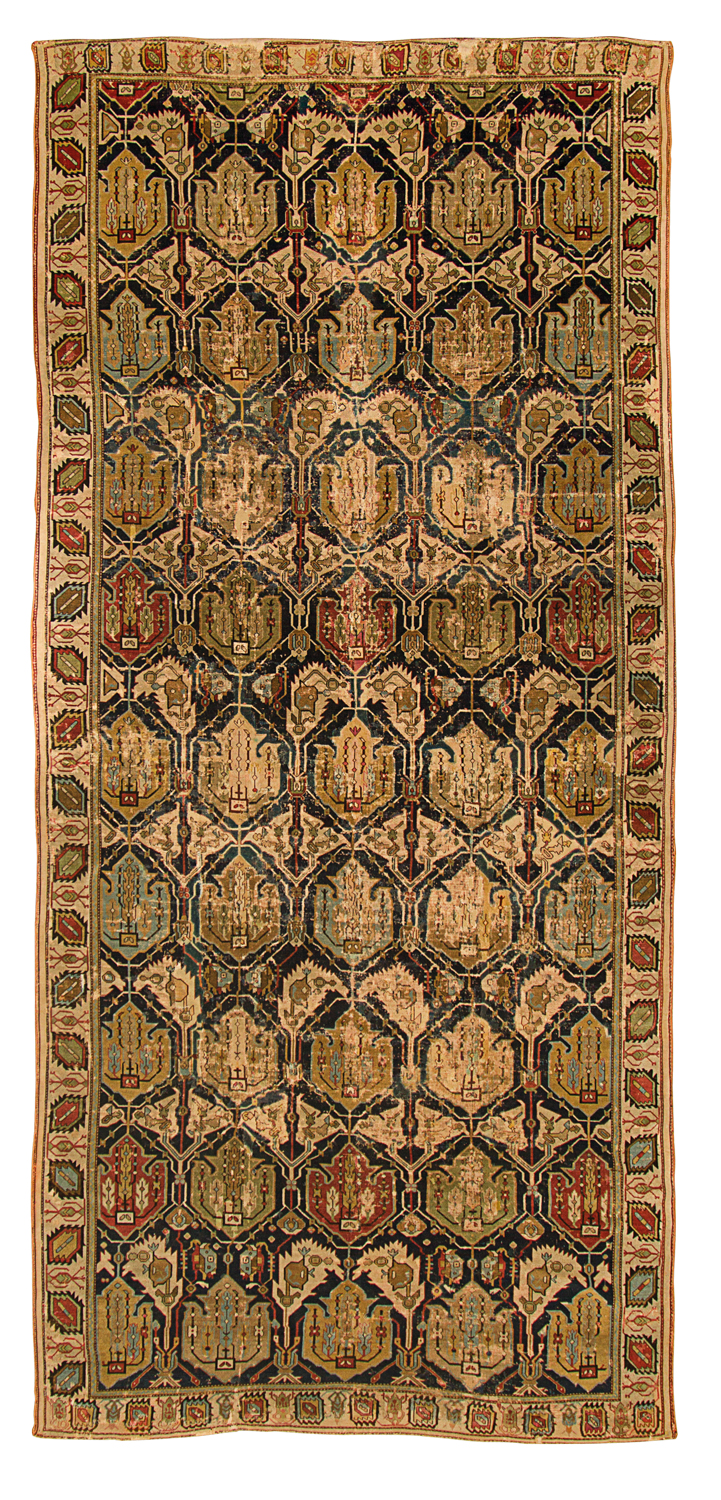 Mrs. Shirin admits: "The Azerbaijan carpet possesses incredible energy. While going in for meditation, we are able traveling to different historical epochs. If I notice a specific carpet at some place, I can't forget it and dream of possessing it in our collection. After my appointment to the post of the museum director, I left for Vienne aimed to get introduced with collectors and dealers, to visit museums and to establish contacts at museum and conservation areas. At the Austrian auction house I noticed a carpet, drawing my attention and I immediately realized,that it should be included into our collection! That was "Shamakha" carpet, dated by our experts back to the end of the XVII century. The presentation of the Shirvan carpet was coincided by us to the 50th anniversary of our museum. At the same period Heydar Aliyev Fund presented the embroidery of the XVIII century, purchased at Sotheby's auction, as a gift to the museum. For all our collections we have developed the conception and according to it we select carpets, to be searched all over the world and then we seek after a sponsor or we organize purchase at our own cost. The Museum's mission is very valuable and very important for our country and for whole nation. Azerbaijan is a country, producing these carpets for centuries however, at the present stage by unfortunate vagaries of fate, many masterpieces of carpet weaving are non-accessible for us.
Nowadays, thanks to support of the country leadership and efforts of museum employees, Azerbaijan carpets, scattered in every land, often and often find way back to their motherland. Their home sweet home, cozy and magnificent Azerbaijan carpet museum is impatiently waiting for them in Baku.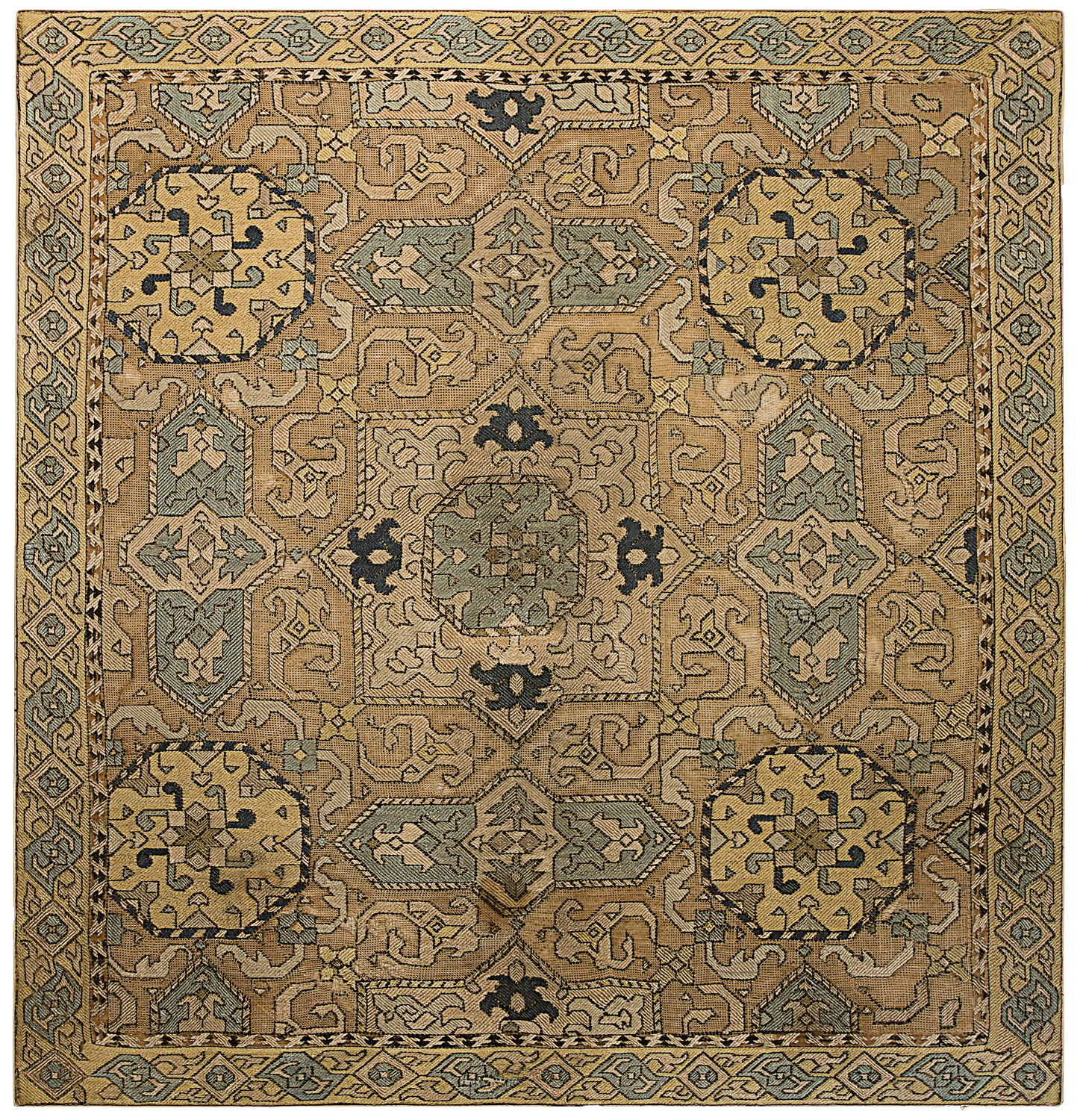 Text: Nailya Bannayeva
Photo: Archive of the carpet museum