Designer Tomasine Barnekow from Sweden "threw down the gauntlet" to traditions and now in her studio in Paris she creates magnificent accessory, capable to make any look more stylish. Elegant, extraordinary, but always dainty gloves by Thomasine Barnekow are the real pieces of art, they are not only worn by the most famous people, but also exposed in the museums worldwide – from Los Angeles to Seoul.
Thomasine will tell us why she challenged exactly this fashion field and what inspires her to create such elegant and impressive accessory as gloves.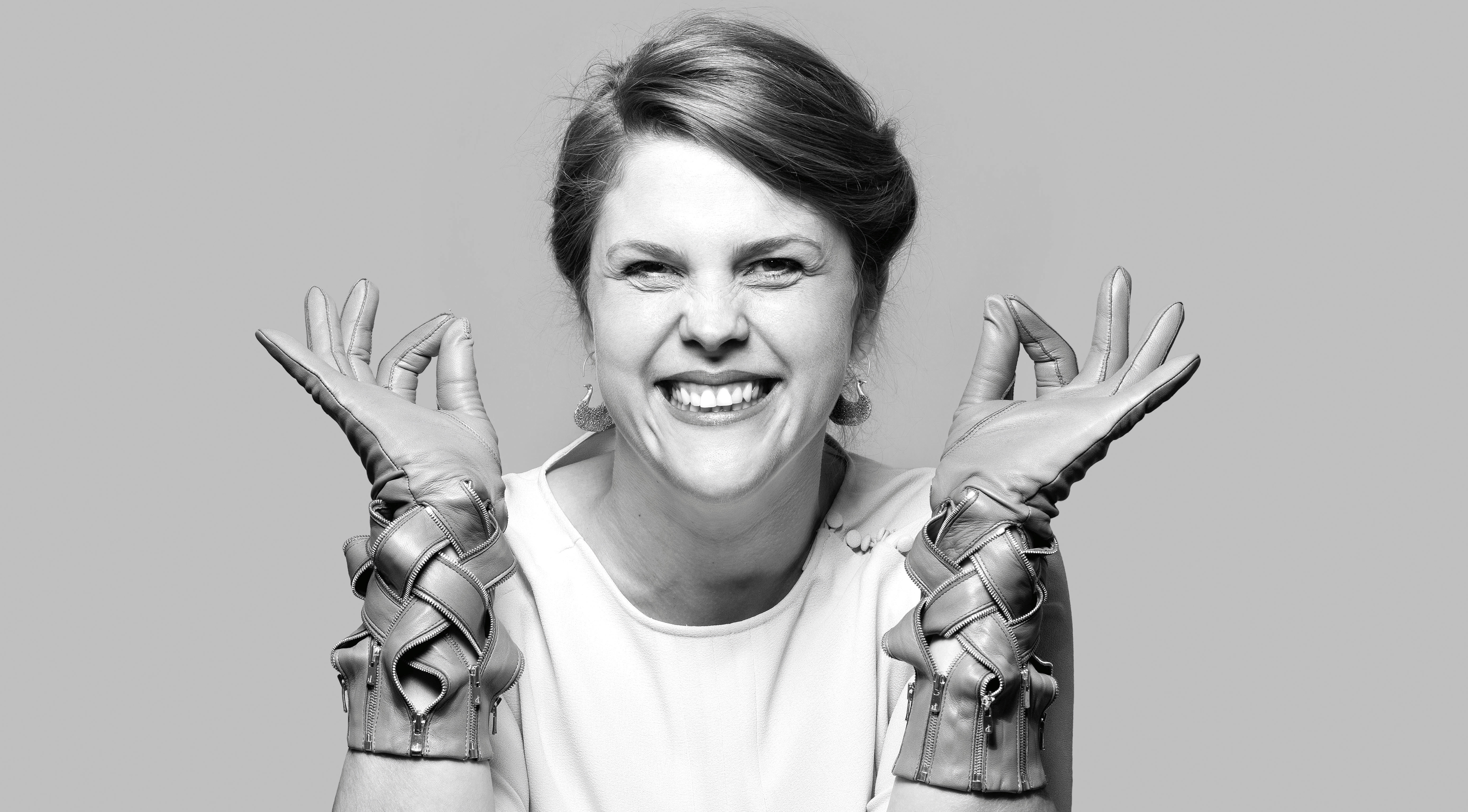 Thomasine, today gloves, apparently, is not the most popular accessory. Why you decided to create it?
It all started slightly a little over ten years ago with peau precieuse concept, the idea to turn gloves into a soft, comfortable jewelry. Soon I understood that there are only a few designers of this wardrobe element in the world, and I set myself a goal to return gloves in fashion on the international market of luxury items.
Creating gloves for you is a challenge or calling?
I took it as a challenge. I wanted to give the gloves a new image so that everybody would realize what great complement they can be. I decided to make people, who are indifferent to this accessory, dream of gloves. And by unusual design of the gloves I challenge traditions and historically established methods of production of this accessory. I call on professional masters to leave their comfort zone and to pay attention to new models. I always tell them: if I succeeded, you will too! And you will do even better!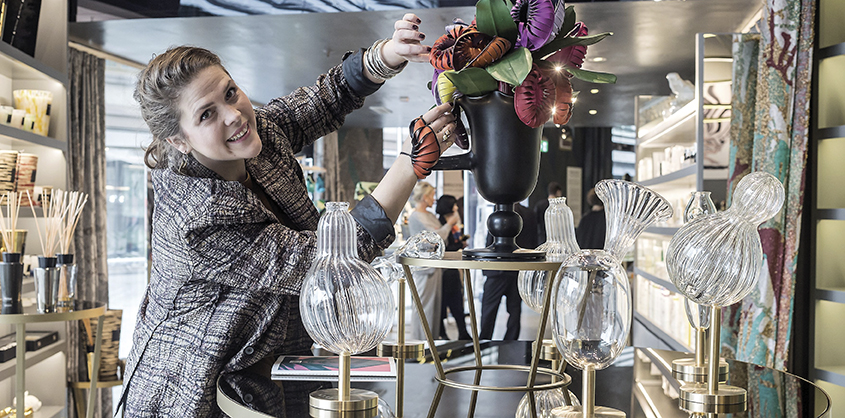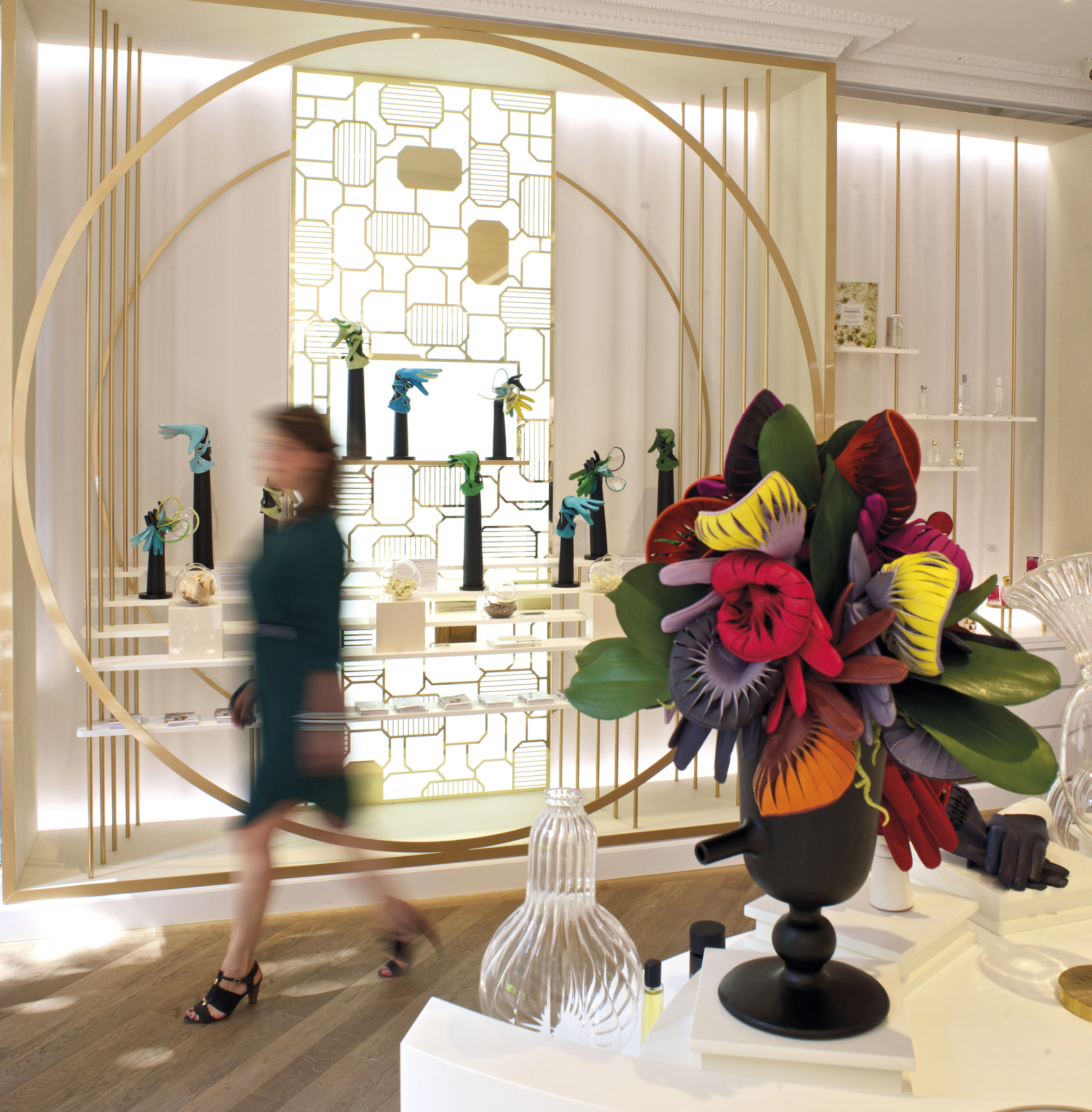 In many cultures gloves are associated with such concepts as honor, purity, nobility, high rank, etc. What they symbolize to you?
To me hands symbolize pride and self-confidence. And I would like to highlight it by creating the models which literally come to life on hands: they really carry a certain message and, by the way, always draw the eye.
So how everything started? Did you study specially the production of gloves somewhere or you are self-taught designer?
I studied maths at some point, but then I challenged myself by trying to understand how far I can go with the artistic talent, which I always felt in myself. And I still continue this journey... I studied conceptual design of products, paying special attention to fabrics and trends. I was taught to tell my own story of design so well that it could become a trend. I began studying history of making gloves, while already working with producers of gloves from France and Europe. I would say that, basically, I am educated conceptual designer, but in design of gloves I am really self-taught.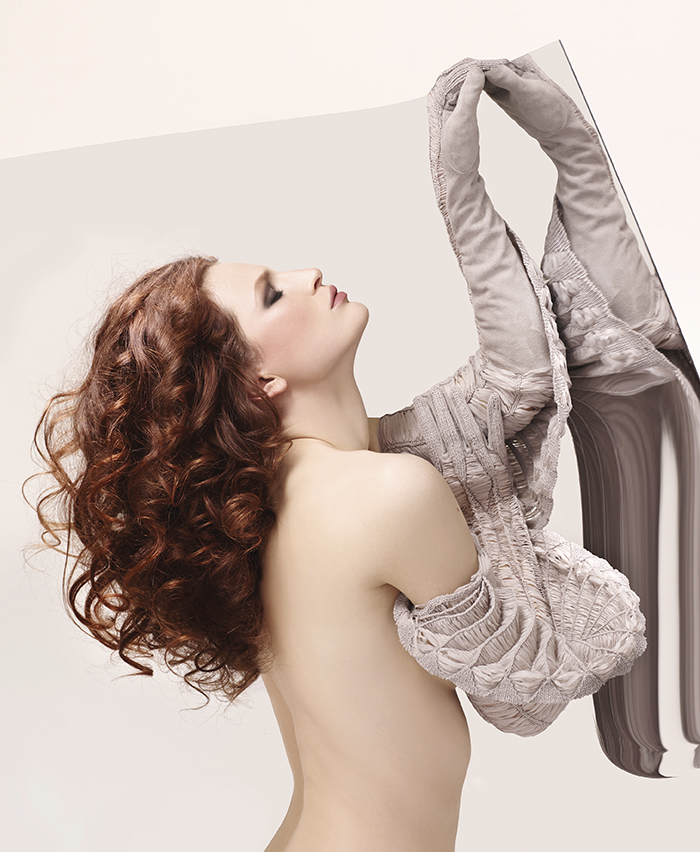 Your pret-a-porter gloves are named after famous cities from around the world. Did you create the gloves after visiting these cities?
This collection is devoted to people of the whole world. I am always inspired by the attitude of how people, whom I meet when travelling, style. I give names to gloves, being inspired by the impression I get from visiting some city or just from meeting with a person from this city or just dreaming to visit this place someday.
Do you have gloves dedicated to Baku?
Yes, of course, there is a model in my collection named BAKU. It is a twisty fur-lined short glove with mink fur ‒ the model filled with feminine elegance with an obvious hint on luxury. I haven't had a chance to visit Azerbaijan yet, but I can already imagine stylish Azerbaijani women who are freely wearing gloves in this historically rich region which is geographically situated between East and West.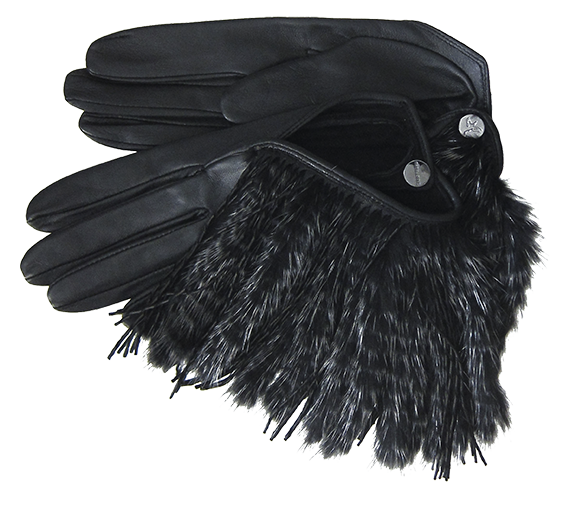 "BAKU" gloves
What else inspires you besides travelling?
I love meeting people, stories fascinate me, I like when a person feels proud of the place he is from.
Your gloves went around multiple famous fashion magazines. How did it help in development of your brand?
Constant availability of a wide choice of gloves ‒ both for press representatives, and for the design models participating in fashion show, was one of my main investments in joint projects. As a result I observed how stylists and photographers were inspired with my work. Thanks to their creativity my projects begin to travel around the world, more and more people can see them. My concept is successfully transmitted through magazines ‒ as I dreamed, people start to actively get interested in gloves.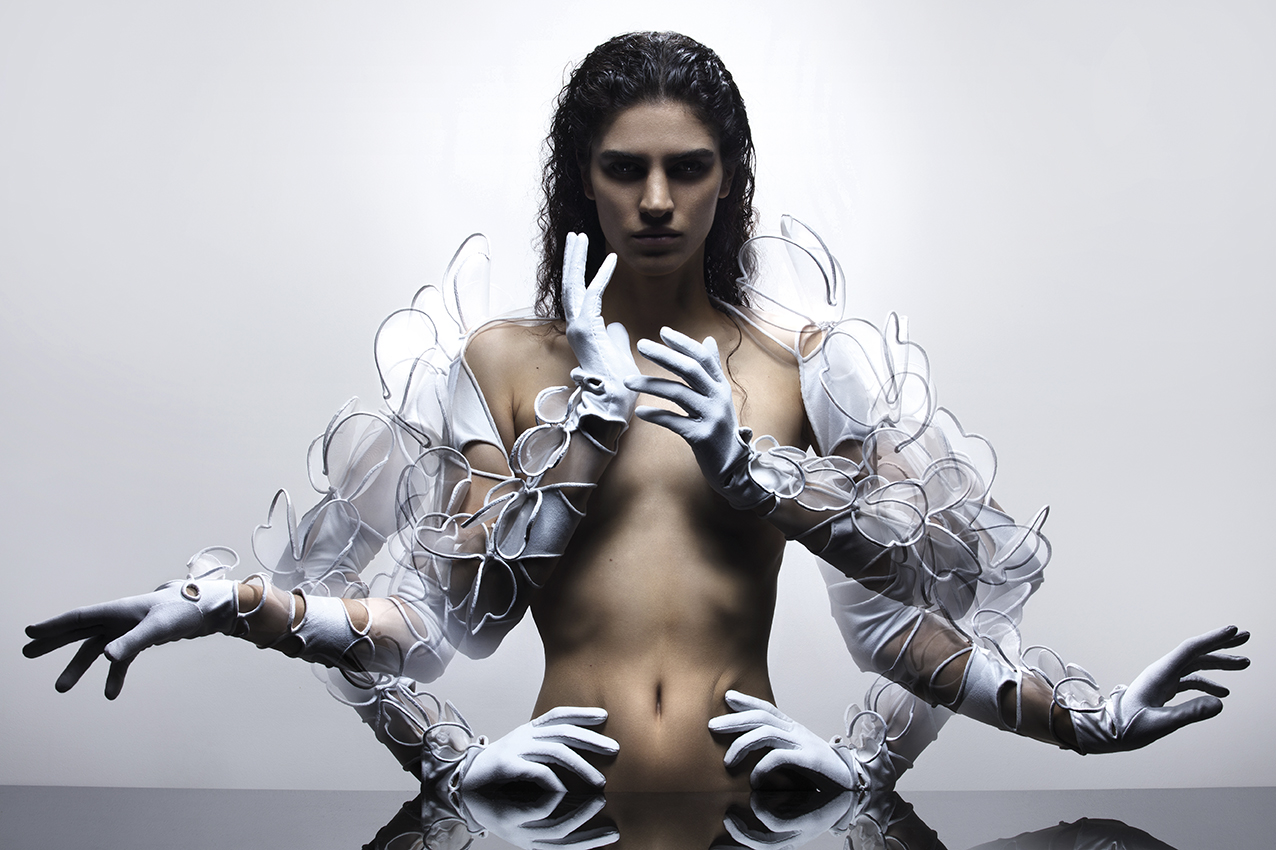 Which essential message you want to send with your artworks?
Let yourself be special!
Who is the most famous customer of your brand?
I heard that my NEW YORK gloves were once bought as a gift to the architect Zaha Hadid. I am very much proud of the fact that my work was in her personal collection. Several unique samples created during my work in the world of haute couture for the Belgian designer Walter Van Beirendonck today are in possession of the known museums, for example, of LACMA ‒ Museum of art of Los Angeles, the Museum of fashion in Antwerp. This makes me feel part of fashion history.
They say, you create gloves alongside with masters of your studio. Are you involved in process too?
I always prefer to create the model's initial design in studio. I work with the most talented European glovers who make products based on my design. But when I work on haute couture projects, I sew gloves myself. Sometimes, depending on the amount of orders and deadlines, I take assistants. Knowledge of process from within allows me to challenge even professionals in making new forms of gloves.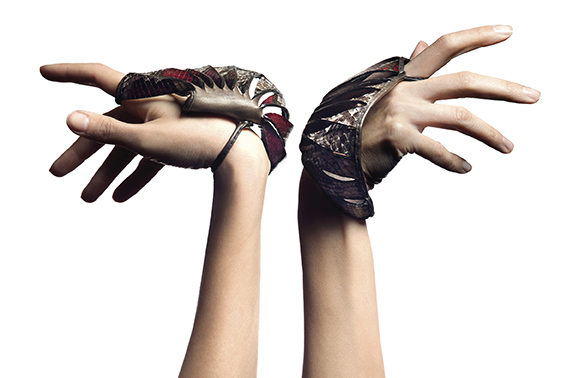 You hold exhibitions around the world. Is this a part of marketing policy or you consider your work as a form of art?
My pret-a-porter collection represents fashion accessories, worthy of entering the international market of luxury goods. But during work in the sphere of haute couture my inner artist can freely express my thoughts and emotions. I see each my haute couture glove as the embodied poetry, and cooperation with photographers, broadcasting my pieces for the whole world, pushes my work to the higher level.
You often present your works in Asia. How do you think, is art perception on the West and East different?
Yes, I can feel the difference, I see that in the East the susceptibility to poetry in fashion is highly appreciated. Besides, my inspiration with the nature is well combined with eastern values and traditions in understanding of beauty. Also there is a big difference in the speed of decision-making and effectiveness: in Europe everything takes time, and somewhere in South Korea if they are interested, they just accomplish it in very short terms!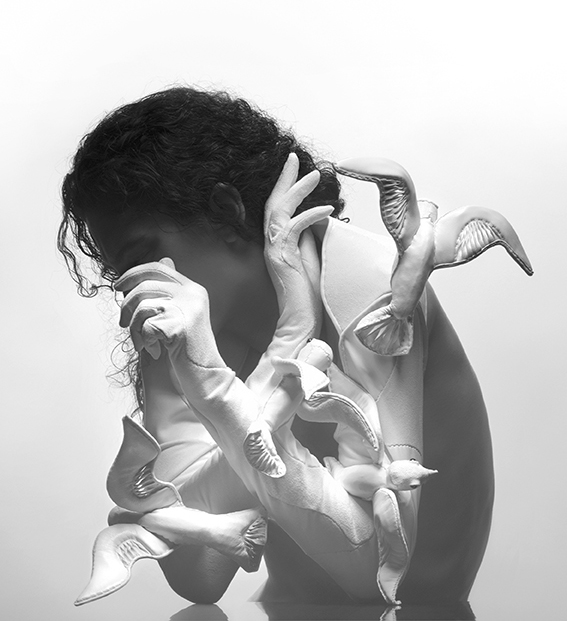 Your last collection is mostly made of leather. Is this the main criterion for you?
Yes, sheepskin is a basic fabric of my collection, but I always try to use unexpected combinations with other materials: I mix leather with woolen fabric, thin lace, sheer vinyl, thick calfskin, elastic reflective material, amazing fur, metal mesh... My task is to create a design in which these fabrics would be harmoniously combined.
Do you use eco-leather?
Using of fine processed sheepskin for well made, independent of fashion trends, glove is one of the most eco-friendly options for me. Products from sheepskin are very wear-proof therefore I find it important that the glove has a relevant design. At the same time it is always interesting to work with innovative materials, to create various combinations, to think of new variations. I tried to use eco leather, but I still haven't found the structural fabric consisting of all necessary qualities.
It's probably hard to be innovator in such traditional field?
There is nothing hard when your mind is full of ideas, especially in area which was in stasis for a long time and where only few designers pay attention to new opportunities. It is still possible to figure out and make a huge number of gloves! And in this case the fact that I absolutely don't care what others think about me, helps a lot.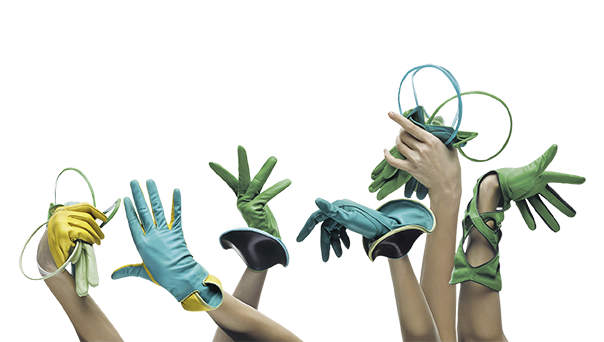 What do you feel when seeing someone wearing your gloves?
When I see a stranger in gloves of my production I feel truly happy.
And do you wear gloves yourself?
Of course! I always have author's models Paris or Milan on me, and on important events I wear a pair coquillage de main.
What is your favorite quote about fashion?
"Fashion fades, style is eternal", said by Yves Saint Laurent.
Your bravest artistic dream?
To create a "glove paradise", some sort of "shoe heaven", which are available in each exclusive department store!
Interview by Nigar Orujova 
Photo by Benjamin Taguemount